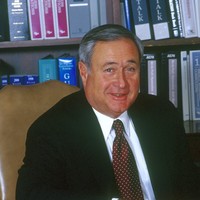 Richard C. Simione, CPA, Partner
Richard C. Simione, CPA, is a partner at Simione Macca & Larrow LLP. He has more than 35 years of experience in serving closely held businesses and not-for-profit organizations throughout the country. After graduating from Providence College, Dick served with the U.S. General Accounting Office in Washington, D.C.
Dick is a member of the American Institute of Certified Public Accountants and the Connecticut Society of Certified Public Accountants. He is licensed to practice in the states of Connecticut, Massachusetts, New York, Pennsylvania and California. He has served as a member of the board of directors of a local financial institution. Dick has presented numerous seminars on various tax and financial management subjects to such industry groups as real estate and banking. A sought-after participant in local business seminars, Dick is well known for his expertise on a wide variety of topics, including bank financing and small business expansion.
Dick is very active in New Haven area civic, charitable, and social organizations. He served on the board of the Hamden Chamber of Commerce as both treasurer and president. For eight years, he served as treasurer of the Board of Trustees of Cheshire Academy. He has served on the Board of Directors of the Cheshire Rotary Club, the former New Haven Jaycees, and the former New Haven Pops Concerts. Dick is also past Chairman of the Board of the Greater New Haven Chamber of Commerce where he served on its Executive and Finance Committees. He is Chairman of the Board of the National Multiple Sclerosis Society Connecticut Chapter and serves on the Board of Directors of The International Festival of Arts and Ideas. Socially, Dick is a member of the Farms Country Club (where he once served as president), the Quinnipiac Club, Amity Club, and New Haven Country Club. In May 1999, the New Haven Chapter of Providence College Alumni awarded Dick with the 1999 Veritas Award.
Dick is an avid golfer and has been instrumental in organizing several charity golf tournaments.
Back to Partner Profiles